5 Locations Of New Bollywood Films In India That Will Ignite Your Wanderlust
Bollywood-inspired Indian destinations that are sure to find their way into your 2018 travel list!
As we phase into the new year, our resolutions either become reality, or more often than not, fade into dust. Whether you're travelling to a new, unexplored location, hitting the gym more often, or simply taking some time out for yourself, the year is yours for the taking and you can use it as you please.
If you're looking for the perfect grand gesture to celebrate the new year, why not make this year your chance to explore the Indian subcontinent? Sure, you've probably hit a ton of the major locations, but imagine yourself meandering through small cities, exploring beaches, hills, and towns from the southern tip all the way to the north! Add to this a hint of our beloved Bollywood hits and you have yourself a cocktail of adventure, intrigue, mystery, and of course, romance – the perfect ingredients for an amazing year of holidays.
Upcoming Bollywood blockbusters have taken it upon themselves to rediscover some of the often-overlooked states and cities of India that are, in actual fact, some of the most exciting and awe-inspiring.
Athirappilly Waterfalls, Kerala
If there's one film that has taken Bollywood by storm, it is definitely the 2015 epic 'Baahubali' and its 2017 sequel, depicting the rebellion and romance of the eponymous hero. A popular song from the film and most of the waterfall scenes were shot at Kerala's Athirappilly Waterfalls, a sight of mesmerising beauty and natural splendour guaranteed to leave you speechless.
Several Indian movies have been shot at the same location owing to its grandeur including many Malayalam films, the Shah Rukh Khan classic 'Dil Se…', and others. If you're truly in search of something new and ethereal, then this is the place for you!
Kashmir, Jammu and Kashmir
Bollywood films set in Kashmir have long been synonymous with romance and conflict depicting age-old epics, political unrest, and passionate meetings of star-crossed lovers. The beautiful hill station of Gulmarg is a particularly coveted shooting location, and it's also a perfect place for a holiday, especially when hidden under a blanket of powder-white snow!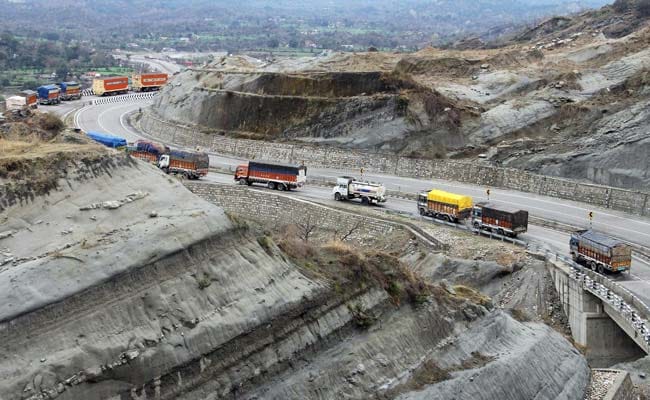 Visitors can make the most of skiing and sledging, gondola rides, and beautiful views in all directions, with no lack of activities available for tourists. Some of the most popular movies shot here include the Bollywood adaptation of Shakespeare's Hamlet, 'Haider', and the blockbuster film 'Highway',  starring Alia Bhatt.
Ooty, Nilgiri Hills, Tamil Nadu
Located in Tamil Nadu's Nilgiri Hills, Ooty is a stunning hill station with lakes, mountains, and thriving flora that makes for a spectacular destination, both for Indian films and subsequently tourists. The 'Queen of Hill Stations', Ooty, is the chosen location for the upcoming film 'Karwan' and has previously served as the backdrop for many hits that are dear to us such as 'Barfi', 'Kuch Kuch Hota Hai', and 'Hum Aapke Hain Kaun' – just to name a few!
Ooty has many places of interest for tourists with the Rose Garden, Botanical Gardens, and the famous Ooty Lake offering boating and sightseeing to keep you busy once you've finished your Bollywood photo tour. All this, plus a temperate climate that remains pleasant throughout the year makes Ooty the perfect destination for a romantic getaway or a trip with family!
Phillaur, Punjab
A story that weaves tradition with fantasy and romance, 'Phillauri' is a 2017 romance-drama based in Phillaur, Punjab, a quaint town in Jalandhar district that is quickly becoming popular among tourists. Depicting the romantic compositions of Sharda Ram Phillauri, famous as the founder of Punjabi prose, the movie spins a whimsical tale of two ill-fated lovers tied together through music and poetry.
The town itself offers many sights to tourists including the Tiger Safari, Sharda Ram Phillauri Gate, and an amusement park that can be enjoyed by everyone!
Pithoragarh, Uttarakhand
Nestled in the Pithoragarh District in the Himalayas, the town of Pithoragarh has made its way into the upcoming 2018 Bollywood movie 'Sandeep Aur Pinky Faraar', shot amidst its snow-capped mountains, valleys, and waterfalls. Famous for its trekking and hikes, the town also attracts travellers for its Durga Pujo, also known as Sharadotsav, and can be reached by bus or train through nearby stations.
No matter when you visit, though, you're in for a treat. Nature has blessed this region with flora and fauna that demands to be observed and appreciated. Pithoragarh Fort is another popular tourist destination deserving of a visit – built in the 18th century and preserved with the efforts of townsfolk.